Not so long ago, businesses could easily survive without the need to advertise their product or services online. Online advertising customer relationship departments didn't exist, and there was no need to have an online presence. However, things have significantly progressed, and customers now go online to search for everything they need. Even if they end up going to a store after they have completed their search, people still like to have prior knowledge of what they want to buy. For the younger generation, if you are not online, you don't exist.
Social media advertisements are a great way to promote your brand and build your social media accounts. Facebook advertisements help promote businesses and gain new followers.
Facebook is one of the online networks that have remained at the very top over the years. It is a platform that has been recommended for both small and big businesses due to its worldwide membership.
In case you are set on publishing your next advert, well hold up a bit! Below are the pros and cons you need to consider first.
Pros
Target Your Audience
Facebook advertisements help new audiences become aware of your product or services. By using Facebook data, you can target your ads to potential customers that may be interested in your products based on their gender, interests or location. This strategy helps you get your customers in a more organized way.
It's a Trusted Advertising Platform
Facebook continually improves on its advertising features. What this means is that Facebook uses trusted methods and algorithms to approve and run ads submitted.
It Boosts Your Page Likes
Individuals trust brands with social authority more than those who don't have any. This is one of the reasons why some brands look for easy ways out by buying fake likes and followers. Advertising on Facebook helps you get more likes from real people who are interested in your brand.
It's the Biggest Social Platform
The internet has over a billion over with 70% of internet users on Facebook. Twitter only has half the number of Facebook users, and Facebook is still growing daily. This implies that Facebook can deliver your product or services to a broader range of audiences. You reach a wider audience, especially if you plan on advertising globally.
More Options
With technological evolution over the years, the internet has been used to create brand awareness. Facebook users can choose to conduct a marketing ad or campaign. Facebook also helps you optimize your ad using the best performing one to gain valuable information as to what type of content works and what doesn't.
Wider Reach
With so many Facebook users, you can reach a wider audience and gain lots of followers at the same time.
Cons
Costs Can Increase
The cost of Facebook advertising has increased as the platform improves. If you are working strictly on a budget, it might not be very easy to use Facebook advertising for your business regularly.
Some Metrics Are Misreported
Over the years, Facebook has been criticized for reporting metrics that aren't always correct. There have been reports of inflating simple metrics or over-reporting which still favour Facebook. Some metrics commonly misreported include:
Instant articles metrics are sometimes misreported
Over-reporting the Video play metric
Because repeat visits aren't removed, the organic reach isn't reported correctly
Miscalculated metrics for apps referrals
You Only Reach Facebook Users
When you advertise on Facebook, you can only reach users on Facebook and not on any other social media platform. Facebook does not offer such options.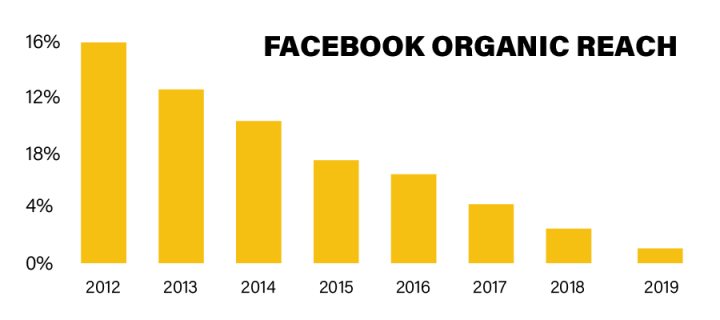 Less Organic Reach
Organic reach using Facebook ads has recently reduced by 1% or 2%. This means that your content is not reaching new audiences but those that have seen your posts before. This is ineffective when finding new followers for your brands.
Users Have to View Their Feed
The only way viewers can see your ads is if they are logged in. This is a con. For instance, when you advertise on AdWords, your ads are shared with everyone with access to the internet where AdSense ads are served. With Facebook, everything happens behind a login.